By Oke Peter
The Nigerian Gas Association (NGA) has announced that it will hold a three-day learning solutions training event series entitled: 'Understanding the natural gas value chain end to end'.
The NGA Learning Solutions is a certificated course/training programme with an objective to provide a comprehensive insight into the Nigerian gas sector, and enable participants to develop a greater understanding, interest and appreciation of the Nigerian Gas Industry Value Chain.
According to the executive secretary of the association, Taji Ogbe, the course will provide delegates the opportunity to examine the regulatory, commercial and technical aspects of the natural gas value chain in Nigeria and beyond.
The three-day virtual event will hold between 27 and 29 July 2021. It will consist of several in-depth modules to be delivered by industry experts, with attendee interaction and question and answer segments, lasting from 9 am to 5 pm each day.
The event will also be recorded for attendees who are unable to attend live to watch at their convenience.
Some of the topics to be discussed at the event include Introduction to Policy and Regulatory Framework; Natural Gas Formation, Exploration and Production; Natural Gas Processing and Sweetening; Gas Plant Technology – LNG and Mini LNG; Gas-to-Liquid Technology; Liquefied Petroleum Gas (LPG) Technology; Compressed Natural Gas (CNG) Technology; Natural Gas Transport and Storage; Gas-to-Power Technology; Gas Based Industry; Global Gas Market; Domestic Gas Utilisation; Future of Natural Gas Industry in Nigeria; Gas Marketing and Sales; Gas Pricing and Nigerian Gas Transportation Network Code; Health, Safety, Environment, Community Relations and Investment Opportunities in the Nigerian Gas Industry Value Chain and Gas Value Chain Contracts, among others.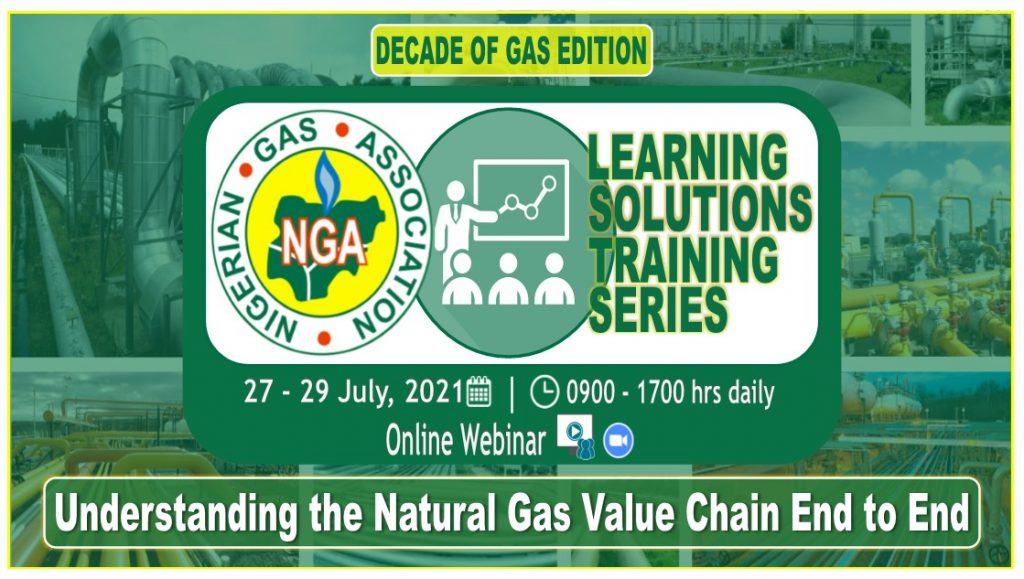 Expected speakers at the event include the General Manager Fuel & Gas/PPP(SP), Niger Delta Power Holding Company Limited (NDPHC), Engineer (Prof) Stephen Ogaji; QHSE Environmental Scientist, Notore Chemical Industries Plc, Opeyemi Ogunkoya; Production Asset Management, Nigeria LNG Ltd, Excel Upkohor; the Managing Director, Gas Terminalling Limited, Felix Ekundayo; GM, External Relations & Sustainable Development, Nigeria LNG Ltd, Eyono Fatayi-Williams, Managing Director, Fleissen and Company Ltd, Dr. Sunday Kanshio.

Others are the Gas Engineer, Notore Chemical Industries Plc, Ayodeji Eniabire; Gas Commercial Advisor, Nigerian Petroleum Development Company Ltd (NPDC), Justine Mdondo; the Executive Secretary, Association of Local Distributors of Gas (ALDG), Oga Adejo-Ogiri; Principal Consultant, Lonadek Global Services, Dr. Ibilola Amao; Team Lead, Gas Transportation Network Code, Department of Petroleum Resources (DPR), Ahmad Mungadi; WA Business Development Manager, Shell, James Makinde; Partner, Integrated Gas & Energy and Projects Practice, Templars, Yemisi Awonuga; Process Engineer, Chevron Nigeria Ltd, Emmanuel Oyakhilome; Senior Associate, Olaniwun Ajayi LP, Chukwuemeka Osuji; Gas Consultant, Norbert Shialsuk; Partner, Zera Advisory & Consulting, Joseph Nwakwue; Legal & Governance Manager/Legal Advisor, Axxela Ltd, Olufolake Akinlose; Pascal Ifeacho of NLNG and ember, National Gas Expansion Program Committee.
At the end of the programme, participants will be able to appreciate the structure, components, linkages and functions of the natural gas industry value chain. Explain upstream, midstream and downstream gas processes, products and uses. Evaluate natural gas markets as well as identify and analyse opportunities in today's dynamic natural gas marketplace.