•More than 10 energy ministers and 100 C-suite executives to share diverse perspectives and explore tangible solutions around energy security and the energy transition
Series of 10 invitation-only
•Leadership Roundtables at Gastech 2023 in Singapore to convene public and private sector leaders for four days of high-level discussions
Tangible outcomes to feed into industry reports produced by Wood Mackenzie, to support the global energy agenda and shape the future of the industry
By Oke Peter
As businesses and leaders from across the energy ecosystem set out on the path to net zero by 2050, natural gas, LNG, and hydrogen are emerging as key enablers of future energy security and accelerators of the energy transition. This will be in sharp focus at the Gastech 2023 Leadership Roundtables being held in Singapore from 5-8 September 2023.
The series of 10 invitation-only roundtable discussions will see participation from more than 10 energy ministers and 100 C-suite executives from across APAC, Europe, the US, and beyond, to align on decisive action and tangible solutions accelerating the future of the gas and energy industries and supporting global decarbonisation goals towards a more secure energy future.
Each closed-door session will welcome up to 30 high-level participants including the energy sector's most distinguished thought leaders, strategists, policymakers, analysts, and commentators. The sessions will be hosted and moderated by Gastech's Knowledge Partner, Wood Mackenzie, alongside other partners including the UN Environment Programme (UNEP), Siemens Energy, and the East Mediterranean Gas Forum.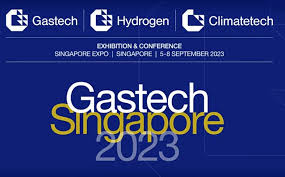 UNEP will host a Roundtable asking: 'How will the gas and LNG industry make a step change in its decarbonising efforts?'. UNEP OGMP 2.0 Manager Giulia Ferrini will be joined by representatives from the Gas Exporting Countries Forum (GECF), Zhero, SLB, the World Bank, the Global Centre for Maritime Decarbonisation, ENGIE, Linde, and TES to debate strategies to tackle the existential issue of methane emissions curbs.
Giulia Ferrini, UNEP OGMP 2.0 Manager, said: "The oil and gas sector needs to act and curb methane emissions as a first step towards their decarbonisation efforts. It is only through collaboration, accountability, and transparency that industry can be part of the transition to sustainable energy and urgently address the climate crisis."
A range of measures are already being evaluated, from responsibly produced gas to CCUS to more efficient engines in ships. Convening a broad panel of public and private sector players will ensure that these important questions are not just asked but answered.
Ministers from Africa and Asia last week recommitted to bolder cooperation and solidarity to advance access to affordable energy for their growing populations, as they met on the sidelines of the G20 Energy Transition Ministerial Meeting (ETMM) to provide an impetus to the priority of a clean energy transition within the G20 and beyond.
Many APAC governments are already exploring LNG as a critical fuel that will allow them to meet their growing energy needs while delivering on decarbonisation targets. While the transformative potential of climate technologies is emerging, with new infrastructure promising to mitigate emissions, crucial questions remain as to the best means of unlocking investment in energy projects and advancing hydrogen production.
Key outcomes from the Gastech 2023 Leadership Roundtables will feed into industry reports produced by Wood Mackenzie, with the aim to support the global energy agenda and inspire the industry to develop the crucial strategies required to accelerate energy progress and meet net zero targets.
Simon Flowers, Chairman & Chief Analyst, Wood Mackenzie, said: "The gas outlook remains bullish, for LNG in particular. LNG demand growth, mainly from Asia, requires another 100 mmtpa of new capacity to be built by the mid-2030s on top of that already under construction. While this growth is positive, suppliers also face multiple challenges: margins are at risk from cost inflation, developers must meet growing calls for low-carbon-footprint LNG and securing long-term offtake with Asian buyers is key. I can't think of a better time and location for the industry to be meeting than in Singapore for this year's Gastech."
The Leadership Roundtables facilitate important discussions about the future of energy production, supply and use, while providing excellent networking opportunities, empowering attendees to build high-level industry connections. Sessions are held under the Chatham House rule, allowing for free-form, productive and action-oriented discussions.
A session on 'Hydrogen – unlocking the off-takers and market signals needed to secure demand' will be led by Siemens Energy, addressing the critical role of hydrogen in the path to net zero and reducing scope 3 emissions in hard-to-abate sectors. Insights will focus on accelerating APAC's ability to unlock the roll-out of its hydrogen economy, while balancing decarbonisation, energy security, and affordability.
Anne-Laure de Chammard, Member of the Executive Board of Siemens Energy, said: "Engaging in conversations about hydrogen becomes crucial as we seek to shape policies, attract investments, and establish markets. Nevertheless, the road towards a thriving hydrogen economy is complex, requiring careful navigation to ensure tangible benefits for all stakeholders while considering its impact on our planet."
The Leadership Roundtables form part of a wider agenda of high-level ministerial sessions, and technical and commercial conferences at Gastech 2023. Across 116 sessions over four days, Gastech 2023 will focus on the major themes of energy supply security, low-carbon energy for sustainable global growth, energy transition alliances, and the development of the energy industry workforce globally.