Digital Energy Festival for Africa asks "what's light got to do with it?"
Power Africa's Nigeria programme has helped to electrify two centres in Lagos that are focused on protecting women against gender based violence (GBV). This came to light during a live discussion on linkages between GBV and energy, entitled: "GBV and Electricity: What's Light Got To Do With It?" This broadcast forms part of the Africa Energy Forum's Energy&Her series during the current Digital Energy Festival for Africa.
Melissa Basque Roux, a gender and energy specialist who runs the Energy to Equal gender programme at the International Finance Corporation (IFC), moderated the session: "We are thrilled to partner with Power Africa given our shared commitment to increase gender equality in the sector, supporting our partners through various initiatives, including designing gender policies, gender action plans as well as gender based violence (GBV) and harassment with mitigation tools."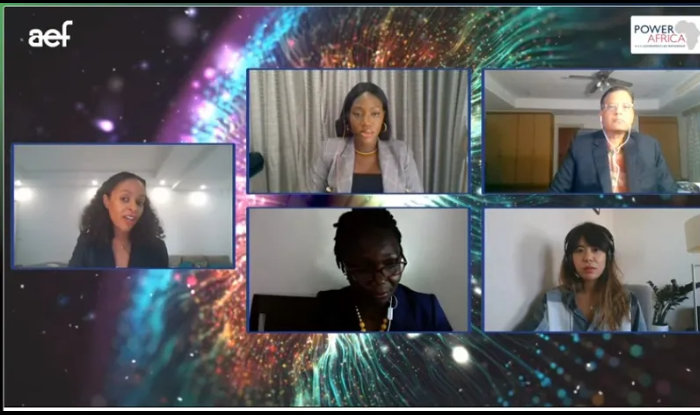 She states that addressing GBV is a topic that the IFC is taking very seriously. "In the private sector it is motivated by the need to prevent the physical, sexual, moral and financial harm GBV poses to individuals as well as the reputational, legal and financial risk it also causes to businesses and investors."
Anyone can be a victim
An estimated 35% of women around the world have experienced some form of physical or sexual violence at some point in their lives states Adaku Ufere, Deputy Chief of Party of Power Africa's West Africa Energy Program. "Anyone can be a victim or a survivor of GBV."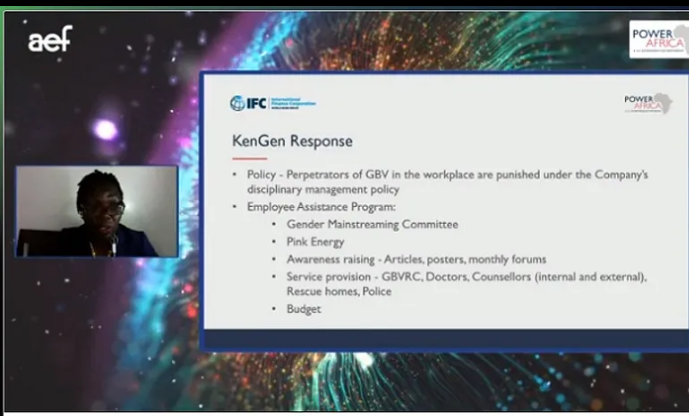 "What has this got to do with electricity?" she asked. "Evidence demonstrates that women in electrified households report significantly lower acceptance of GBV. One reason is that electricity increases women's access to information and their exposure to different worldviews where GBV is considered unacceptable. The more information that girls and women have access to, the greater understanding they will have of their rights and the less accepting they may be of stereotyped roles and violence."
She adds that access to electricity is a powerful engine to women's economic empowerment. "Evidence shows that the income of self-employed rural women, who have access to energy, are more than twice that of their counterparts without access to energy. Women are also more likely to become wage-earning workers outside the home when they have access to electricity."
COVID increases GBV in Kenya
Eva Atieno, Chief HR Officer at KenGen (Kenya Electricity Generating Company Plc) says the recent COVID-19 responses in Kenya resulted in "unintended increases in incidents of GBV between April and August." Government data indicates that 45% of women and girls experienced physical violence, while 14% experienced sexual violence during that period.
"We had a lot of media reports of people having been killed by their spouses or partners. The National Council for Administration of Justice reported a 13% spike in sexual offenses."
She says that KenGen in its response decided during that period to enhance its gender support policy and ensure that it complies with regulations and meets targets. "More importantly, KenGen has an employee assistance programme. We also have a forum known as PinkEnergy, which was formed after we did a survey that showed that women are not represented sufficiently."
Atieno says through these initiatives KenGen has been able to raise and enhance gender awareness in the organisation and ensure a better working environment, for example, a properly equipped mother's room.
Also, during this period, KenGen decided to raise the awareness of GBV and the MD, Mrs. Rebecca Miano, also addressed it. "Employees have felt very empowered," says Atieno, "they also feel very safe to work for KenGen inside and outside the company's premises."
KenGen sees employees as valuable human capital, says the HR officer and sees benefits to investing in its employee programmes.
GBV centres in Lagos electrified
In Nigeria there were also a lot of reports of increased domestic and gender-based violence during June 2020, says M.K. Balaji, a specialist leader at Deloitte Consulting and the current lead of the off-grid programme of USAid-funded Power Africa's Nigeria programme.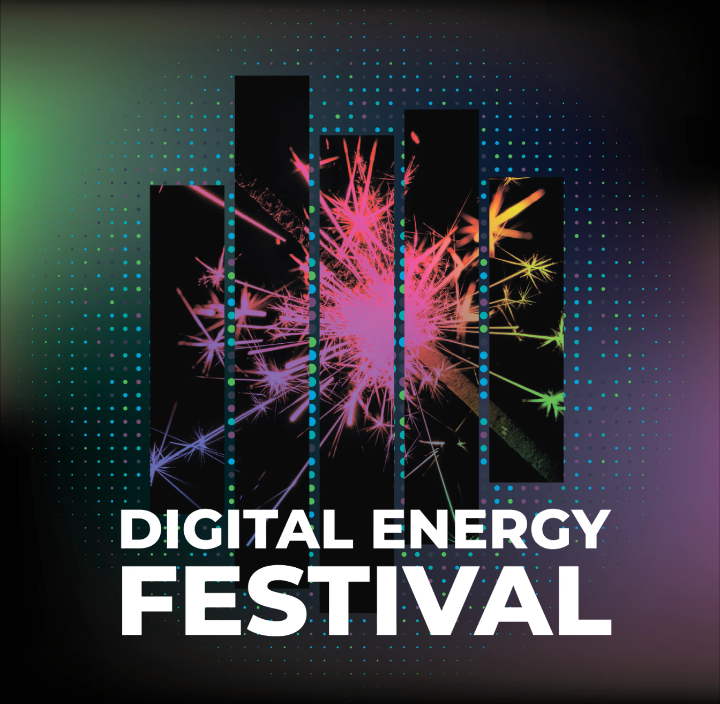 The programme is working very closely with Lagos State and thanks also to the donations from two companies, Fenix International and Greenlight Planet, has managed to electrify two GBV centres in the state. These are the Cece Yara Foundation and the Women at Risk International Foundation (WARIF).
"It was very important for these centers to continue to function with uninterrupted services," says Balaji, adding that the 10-25W solar systems that were distributed to the centers last week help them to extend their services, have lighting, improve telecommunication services that will help people to call in, enable them to charge their phones and offer clients a more comfortable environment.
"This is a first step to demonstrate our commitment to this important topic."
Mandate to do good
Providing an investor's point of view was Marie Anna Benard, project manager at responsAbility, a Swiss-based company that invests in developing and emerging markets, including in the energy sector.
"Our mandate is to have a positive development impact and to do good," she noted. Currently, the company is involved in projects that will increase reliable access to electricity for households, which also improves women's safety and reduces their vulnerability.
Digital Energy Festival
The Digital Energy Festival is hosted jointly by four of Clarion Events' leading energy brands Africa Energy Forum, African Utility Week & POWERGEN Africa and the Oil & Gas Council's Africa Assembly, and the leading energy journal ESI Africa providing six weeks of compelling content until 26 November.