By Oke Peter
Organisers of the Nigeria Mining Week has announced that the 2023 edition of the programme will hold between 16 and 18, October at the International Conference Centre, Abuja, Nigeria.
Dr Mary Ogbe, Nigeria's Permanent Secretary in the Ministries of Solid Mineral and Steel Development (formerly known as the Ministry of Mines and Steel Development) said Nigeria Mining Week, "promises to be a significant platform for key stakeholders in the mining industry to converge and discuss the pivotal role that Nigeria's critical mineral resources play in fostering economic growth and sustainable development."
She adds: "With the government's commitment to creating a conducive business environment, the event will showcase the diverse investment prospects available in Nigeria. With a rich history of mineral resources, Nigeria stands poised to harness its mineral wealth for sustainable economic growth and development."
Proudly hosted by the Ministry of Solid Minerals and organised by the Miners Association of Nigeria (MAN) in collaboration with PwC Nigeria and the VUKA Group, Nigeria Mining Week returns to Abuja's International Conference Center in October for its eighth edition with the theme of Capitalizing on Nigeria's Critical Mineral Resources for its Economic Growth.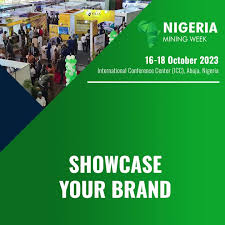 Shaping the Nigerian mining landscape
According to the President of MAN, Dele Ayanleke, Nigeria Mining Week has consistently made valuable contributions to the extractive sector of this West African powerhouse: "Since the commencement of this annual event in 2016, our content development partner, PwC Nigeria, and the event planners, the Vuka Group, have not disappointed in bringing current issues to the table for robust critique and pragmatic communiques which are being considered for gradual implementation by the regulatory bodies."
He continues: "the communiques emanating from the various editions of this annual event have constituted a major ingredient to policy decisions changing the sectoral narratives and gradually shaping the Nigerian mining landscape."
Spectacular return in 2022
The event made a spectacular, record-breaking and welcome return as a live edition onsite in Abuja in November last year, with the attendance of the former Nigerian President, H.E. Muhammadu Buhari and the former Vice-President, H.E. Prof. Yemi Osinbajo, as definite highlights.
The mining community was clearly pleased to be able to get together, network and do deals in person again. Last year's edition hosted 1500+ visitors onsite, more than 330 delegates, speakers and VIPs and was supported by more than 40 sponsors and exhibitors.
"Nigeria Mining Week has always and still has the objective to do more than merely host an expo and conference," says the event manager, Patricia Kazaka.
She explains: "Our networking platform is specifically designed for the Nigerian mining community, and we are here to facilitate conversations and knowledge sharing about taking the mining sector forward and building it to realise its true potential. In the coming years, we look forward to continuing cooperating closely with important mining stakeholders in Nigeria and supporting the goals established by the Ministry and the Presidency."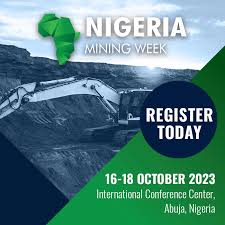 Kazaka also notes that there was a significant international presence at the event last year with more than 25 countries represented, "which was evidence of the desire and interest from the international business community to establish a presence in Nigeria's emerging mining industry."
Some complimentary feedback from last year's attendees:
"The 2022 Nigeria Mining Week event was engaging, with robust and relevant conversations on how to drive the industry's growth."
Ijeoma (Ohiaeri) Koleoso, Head of Corporate Affairs, Segilola Resources Operations
"The event was thoroughly insightful, eye-opening, and engaging."
Ifenmuta M Ogwueleka, Strategy, QA/Budget & Planning, First Bank of Nigeria
"For us, Nigeria Mining Week delivered all that it promised and more. We found it to be very well organised and provided a veritable platform for networking across the entire mining chain."
Folakemi Olubambi, General Trade Executive, Total Energies Marketing Nigeria
Industry support
Celebrating its eight anniversary this year, Nigeria Mining Week again boasts some longstanding support from leading specialist suppliers and service providers in the industry. These include:
Returning diamond plus sponsor: Titan Minerals Ltd
Platinum sponsor: Africa Finance Corporation (AFC)
Gold sponsors: Minelab MEA General Trading and RapidLink
Silver sponsors: DMW Lovol Engineering Ltd, SMT Nigeria and Xugong Nigeria Company Limited (XCMG)
Bronze sponsors: Bespoke Innovation Solutions, PanAfrican Equipment Group, PX Equipment, XCalibur Multiphysics and Lithium King
Nigeria Mining Week is an annual event and online platform for all the mining stakeholders and influencers in the public and private sectors wanting to do business in Nigeria. Established seven years ago, it is organised by the Miners Association of Nigeria (MAN) in collaboration with PwC and The Vuka Group and is supported by the Ministry of Mines and Steel Development. DRC Mining Week and DRC-Africa Battery Metals Forum are partner events and Mining Review Africa is the premier event media partner.
Nigeria Mining Week will hold between 16–18 October 2023 at the International Conference Centre, Abuja, Nigeria.